An implant dentist should not be chosen based only on price and accessibility. Instead, carefully choose an implant dentist who is dedicated to quality care, individualized services and shows an understanding of your needs and desires.
The following are some tips to help you choose a qualified implant dentist:
Satisfactory counseling from a dentist
It is an important to receive satisfactory counseling from an implant dentist to resolve any doubts or questions you may have about implant treatment.
Considerable experience in implant treatment
The number of implant operations and an extensive repertoire of operations may be proportionate to dentist's level of understanding of implant treatment.
Performance, experience, and number of successful cases may help with the choice of an implant dentist.
A dentist of an inquiring turn of mind
As implant technology is progressing at a rapid pace, it may be important for the attending dentist to be frequently engaged in study groups and/or training.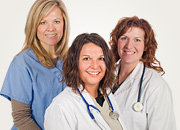 Confirmation of dentist's expertise
You should confirm whether the attending dentist has expertise with requested treatment. For example, even if you wish a highly esthetic implant treatment, the attending dentist may sometimes not have good experience with esthetics.
Comprehensive treatment planning
Informed consent should be established and a detailed explanation of treatment should be provided using case photographs. Treatment planning should be made with respect to the final appearance of the patient's mouth.
You should be able to find the most suitable and reliable dentist by having a counseling session with many dentists. In addition, treatment cost/treatment method tradeoffs and compatibility with a dentist should be checked by getting a second opinion before embarking on treatment.
Implant treatment involves a long-term relationship with the dentist. Therefore, it is important to choose a dentist with whom you can consult regarding any queries you may have.