There are two alternatives: treatment with a bridge or a dental implant.
Treatment with a bridge may not be possible depending on the location of the missing tooth.
1. Dental Implants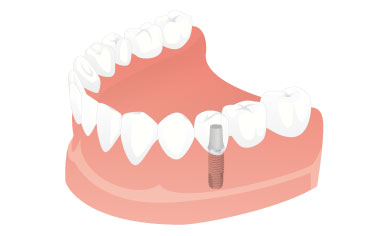 A dental implant is an artificial tooth root made of titanium that is placed in the jawbone after tooth loss to allow an artificial tooth to be placed upon it. Implant treatment can provide a natural-looking replacement tooth without cutting the healthy neighboring teeth.
2. Bridge
A bridge is made up of two dental crowns for the teeth on either side of a missing tooth and the artificial tooth in between.
Once the crowns are finished, the artificial tooth will be bonded to them.
Advantages & Disadvantages
Treatments
Advantages
Disadvantages
Dental Implants

There is no need to cut down healthy teeth.
A natural appearance is provided.
No insertion of a foreign substance into the mouth.
Possible to chew well.
Reduces likelihood of bone loss in the jaw.

More expensive than other treatments.
A longer treatment period may be required than other treatments.
Surgery is required.

Bridge

A fixed type restoration is very comfortable to wear.
The treatment period is shorter than that of an implant.
A natural-looking appearance can be provided.

It is necessary to cut down healthy teeth around the missing tooth.
The heavy burden imposed on the adjacent teeth used to support the bridge may shorten the life of the teeth.
Inadequate cleaning ability may lead to gum diseases and tooth decay.
Bone in the area with the missing tooth is lost.
People that viewed this Article also viewed these Articles